Clayton High School 'Inkblot' Literary Magazine 1981
I had forgotten about this one, but this may have been the first time I had something published!
The Inkblot was the literary magazine of my high school, and obviously the emphasis was on the written word. But they also published original artwork of students, and in this issue, my photograph as well.
The photo is badly reproduced, of course (early 1980s printing!), but the original print would have been made in my darkroom from a 35mm B&W negative I shot on a Kodak Retina Ib camera. The image was taken inside the Climatron, a geodesic dome by Buckminster Fuller, at the Missouri Botanical Garden in St. Louis.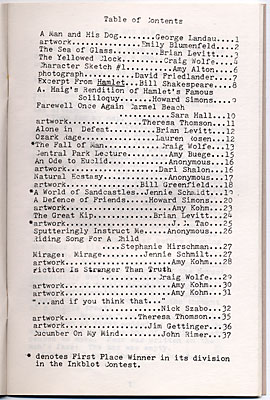 Kodak Tri-X (5063), my reference number #19-12.
Negative scanned with Minolta Scan Dual II film scanner in December 2012.