1962 Calvinia (South Africa) Cosmic Rays Balloon Experiment
---

St. Louis newspapers
June 17, 1962

NCAR (National Center for Atmostpheric Research)
Scientific Ballooning Newsletter
July 1962 (see Upcoming Flights (p8))

Coventry Evening Telegraph (UK)
short news story
August 4, 1962 [
zoomed view of just CR article
]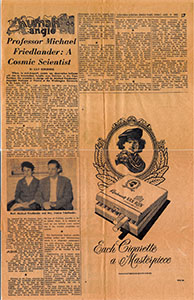 Southern African Jewish Times
profile of Michael (and Jessica)
August 10, 1962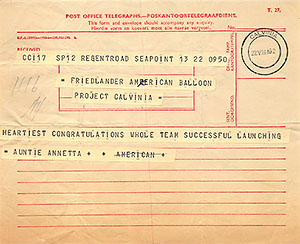 congratulatory telegrams from family
August 22, 1962.

Die Burger article, including plane crash
August 24, 1962.

Die Burger article
August 25, 1962.

Jessica, Michael, Rachel in Cape Town
(a few weeks after the balloon campaign)
September 1962.
Michael also shot home movies (8mm, no sound) of the campaign. Footage shows a lot of the surrounding scenery and some parts of the launch/filling the balloon process, as well as the "chase plane" used to retrieve the ballon and payload (and the plane upside down after a mishap, described on p3 of the Afrox article above).
Length: 18:21